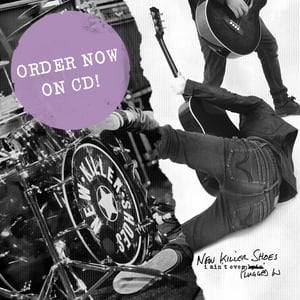 £

9.99
New Killer Shoes went back into the studio and recorded acoustic versions of tracks from their 2013 debut album, I Ain't Even Lyin'. This collection is cheekily titled I Ain't Even Plugged In.
Officially released by Gospel Oak Records on August 12th, you can place your PRE-ORDER now. All pre-orders will be fully signed by the band. 1. Love Rocket
2. Circles
3. Hypocrite
4. Smooth
5. Leave Me Alone
6. Make Your Move
7. Pretty Reckless
8. Snakecharmer
9. Throwin' Shapes
10. I Ain't Got A Chick
11. I Know You Want It
DOWNLOAD ALSO AVAILABLE FROM OUR BANDCAMP PAGE.